Each of the courses described below provide practical skill-building opportunities delivered as instructor-led training — in person, online or hybrids of the two — or can be transferred to in-house training staff (taught as "train the trainer").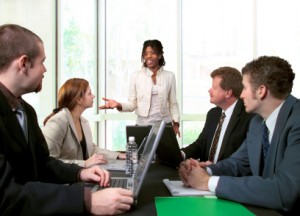 Getting Started:  Already know your participant needs or skill gaps?  Great.  We're agile enough to provide customized training to assist with precision in achieving learning objectives for a modest premium. If not, start with identifying the needs of those who would attend. This can be determined via formal assessment or observed performance gaps. We often assist with pre- and post-training surveys as a way to accelerate improvement and estimate returns on invested training dollars.
Another driver may be strategic imperatives or critical success factors (e.g., change initiatives, sales productivity goals, customer service or quality management measures) that point to skill-building as a necessary way to move toward established goals.
All programs listed below are proven through prior deliveries and ready "off the shelf."  We tailor these or entirely customize programs to meet your unique situation and culture, including a combination of from-your-desk convenience with between-session "soak time" — the application and integration work that makes new behaviors available in daily practice.
We also offer introductory short-course presentations (the list provides ideas and examples) suitable for breaks, lunchtime or after-work sessions.  If we pass the audition, so-to-speak, participants or management may bring us back for longer programs.  Call or email us to discuss the options.
While only some of these programs lend themselves to a distance learning approach (human interaction is needed to anchor experiences and just-in-time learning via coaching), reinforcement systems are considered a best practice for realizing training return-on-investment, whether online, hybrid ("live" instruction via a virtual classroom) or in-person instruction.  Ask for our list of Top Ten "Make-it-Stick" reinforcement techniques — proven effective at companies and organizations of all sizes since 1985 — to learn more.