We deliver improved communication, organizational alignment, and assist leaders to break through to new levels of performance.  The results are strategic innovations, inspired commitment to contribute, and workplaces that just work better.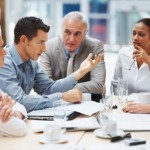 We help achieve this through practical tools for collaboration, improved innovation culture and solid commitment to goals. Our services provide both inspiration and strength to leaders at all levels when addressing the challenges of diversity, capacity, complexity, competency and integrity.
This site offers free, introductory articles with fresh ideas to guide leaders and teams to discover their own solutions and to seize opportunities for breakthrough performance.  We specialize in giving leaders the confidence to handle sticky workplace, business and interpersonal challenges. We also deliver live and Web-assisted training, coaching, group facilitation, short presentations and more.
In effect, we help organizations, teams and departments run more smoothly and productively by focusing on and leveraging differences — interpersonal, group or divisions often get stuck or limit their performance needlessly.  Through strategic innovation, coaching or educational programs, executives and managers find their work easier with improved decision-making and quality, sometimes through assistance with assessment instruments, strategic planning, or (when such reflection and learning is part of the culture) their own development.
Other staff members gain a sense of clearer expectations, a chance to "win" and advance, a platform to shine and contribute, bypassing disputes and management/worker conflicts.  The result is greater commitment, perceived fairness in performance appraisal, more trust, less fear or anger (more confidence without arrogance), with new pathway for growth and achievement. 
When given the tools people need to work well together, coordinate and collaborate, form clear agreements and accountability systems, lead change, and communicate across differences, clients report a better, more enjoyable workplace.  Our programs and services help develop leaders, turn goals into rock solid and often mutual commitments, interrupt patterns of misunderstanding or negativity, improve morale, everyone's ability to manage change, ultimately increasing economic performance, customers service and loyalty, and thus thus bottom lines.
But, unlike other, more surface-level initiatives, we help achieve this in ways that last … in ways that can truly make a workplace work better, so those involved can flourish as the organization does.
We stand for healthy and workable workplaces because it directly benefits companies, employees, customers and suppliers, as well as the communities in which the companies operate.  What are you waiting for?  Contact us to talk through your current challenges or goals.